When Yeardley Smith visited our shores recently, TV HITS really put her to the test and we asked her to sketch her alter-ego, Lisa Simpson. Here's what happened:

Attempt #1 (on right side of article)
Can you draw Lisa for us?
"(laughs) No, I can't! This is vicious of you to make me do this! I'm gonna draw her like the old days when The Simpsons was on The Tracey Ullman Show (back in 1988). OK, lets go...(proceeds to sketch Lisa) This is terrible, she looks like a bird! She looks like Big Bird! Oh how do I do this? I've seen Matt Groening do this so many times, Oh, I don't like this!"

Attempt #2 (on left side of article)
"Let me start over! Hmmm...I don't know how it goes. I can't picture her lip at all...I think these are her teeth! Here are the pearls...and she's got four fingers...and her little Wilma Flinstone dress. Oh this sucks! This is dreadful! You're gonna publish this, arent you?"

OUR VERDICT!: D'oh! Stick to the voice, Yeardley, stick to the voice!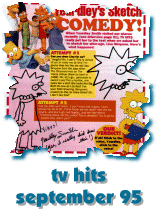 When Nancy Cartwright visited Australia recently, we couldn't resist asking her to draw us a sketch of her alter-ego Bart Simpson. Here's how she went.

Attempt #1 (left side of the article)
TVH Says: Nancys first attempt is the easy way out. Using the edge of a page, she avoids the hassle of drawing the full bodied Bart. D'oh! Thats not fair!
Nancy Says: "Hey, I perfected that!" (giggles)

Attempt #2 (right side of the article)
TVH: Come on, Nance. We wanna see you draw Bart!
Nancy Says: "See that? (pointing to Barts spiky hair) I know exactly how many spikes there are. There are nine. (continues to sketch) Hmmm, this must be baby Bart. (slows down and starts whining) Oh God, I caaaan't dooo itttt! (laughs and starts looking around for a real Bart pic) It's not fair!"