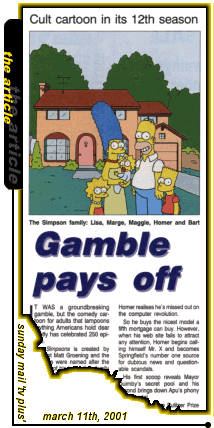 Written by DAVID NANKERVIS
• • • • • • • • • • • • • • • • • • • • • • • • • • • • • • • • • • • • • • • • • • • • • • • • • • • • • • • • • • • • •

It was a groundbreaking gamble, but the comedy cartoon for adults that lampoons everything Americans hold dear recently has celebrated 250 episodes.

The Simpsons is created by cartoonist Matt Groening and the characters were named after the members of his immediate family - except Bart, who represents Matt.

The show first appeared in 1987 as a series of 30-second spots produced for The Tracey Ullman Show.

The Simpsons premiered in the US on FOX as a half-hour comedy series on January 14, 1990.

Acclaimed by critics and fans alike as one of television's truest and most hilarious portraits of the American family, the series received the 1990 and 1991 Emmy Awards for Outstanding Animated Program.

The Simpsons have attracted many celebrity guest voices such as Elizabeth Taylor, Sting, Johnny Carson, Bette Midler, Luke Perry, The Red Hot Chilli Peppers and Bob Hope just to name a few.

Now in it's 12th season, The Simpsons is still going strong.

In tonight's episode - The Computer Wore Menace Shoes - Homer realises he's missed out on the computer revolution.

So he buys the nicest model a fifth mortgage can buy. However, when his web site fails to attract any attention, Homer begins calling himself Mr. X and becomes Springfield's number one source for dubious news and questionable scandals.

His first scoop reveals Mayor Quimby's secret pool and his second brings down Apu's phony donut cartel.

After winning Pulitzer Prize for his journalistic dynamite, however, Mr. X's popularity wanes. In a desperate attempt to rekindle interest, Homer starts really making up the news.

But when he accidentally stumbles upon a dangerous secret, he finds himself kept prisoner on a strange island.

Homer's best attempts to get back home only land the entire family on the island.

The Simpsons stars Dan Castellaneta as Homer Simpson, Julie Kavner as Marge, Nancy Cartwright as Bart and Yeardley Smith as Lisa Simpson.

• • • • • • • • • • • • • • • • • • • • • • • • • • • • • • • • • • • • • • • • • • • • • • • • • • • • • • • • • • • • • • • • • • • • • • • • • • • • • • • • • • • • • • • • • • • • •
Disclaimer: This article is from the "Sunday Mail" TV Plus liftout in South Australia. It has been put up for information purposes, and no money is being made from it.