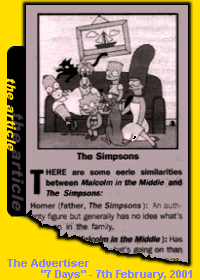 Written by MIKI TURNER and EMMA KIBBLE
• • • • • • • • • • • • • • • • • • • • • • • • • • • • • • • • • • • • • • • • • • • • • • • • •

There are some eerie similarities between Malcolm In The Middle and The Simpsons:

Homer (father, The Simpsons):
An authority figure, but generally has no idea what's going on in the family.
Hal (father, Malcolm In The Middle):
Has more of a clue about what's going on than Homer but still leaves most of the decision making to his wife.

Marge (mother, The Simpsons):
The head of the family and long-suffering wife of Homer.
Lois (mother, Malcolm In The Middle):
Keeps the children on their ties although she does her fair share to embarass the family.

Jimbo Jones (bad boy character, The Simpsons):
One of the teen delinquents of the show whose gang Bart would like to join.
Francis (eldest brother, Malcolm In The Middle):
Sent away to military school after too many brushes with the law. Francis is a hero to his three brothers.

Bart (brat child, The Simpsons):
Always getting into trouble with smart-alec comments, stunts, and picking fights with others.
Reese (brat child, Malcolm In The Middle):
More interested in making his parents life hell than doing schoolwork.

Lisa (the brainy child, The Simpsons):
Incredibly intelligent as opposed to the rest of her clan.
Malcolm (the genius, Malcolm In The Middle):
Unlike Lisa, Malcolm isn't happy about the level of his IQ - "around here, being smart is exactly like being radioactive" - and has elements of Bart in him.

Maggie (the baby, The Simpsons):
Doesn't say much but has her moments as the cute Simpson.
Dewey (the youngest, Malcolm In The Middle):
Very cute but says a lot more than Maggie. The constant focus of his brother's acts of torment, but likes the attention.

• • • • • • • • • • • • • • • • • • • • • • • • • • • • • • • • • • • • • • • • • • • • • • • • • • • • • • • • • • • • • • • • • • • • • • • • • • • • • • • • • • • • • • • • • • • • •
Disclaimer: The following article is from "The Advertiser" newspaper in South Australia. It has been put up for information purposes, and no money is being made from it.